Learn what our clients have to say about their experience.
My testimony is on trust, efficiency, and quality. As I currently reside in another state, Arneé made the process for searching for a home in Atlanta seamless. She was diligent in her communication and made a great effort to prepare me for next steps. As the home buying process is never easy, Arneé's professionalism, efficiency, and ability to connect on a human level, built the trust that I needed to feel secure in my decisions. These qualities are admirable and also the qualities that one can appreciate in a realtor. Arneé, THANK YOU, for your decency, your expertise, and for being an exceptional introduction to my next chapter. We love our new home! With the utmost respect and appreciation, Nikeisha
N. Rumph
I am a repeat client with a very busy schedule. whether you are the buyer or the seller, Arnee is always focused on the best interest of her client. She is a knowledgeable top professional with years of experience. I value her opinion and trust her to guide me through the selection and decision making process. I look forward to doing many more deals with her.
S. Fulton
Deacon Locke didn't disappoint when he gave you to me as my Real Estate Advisor. You exhibited "the fruit of the spirit" of patience. Thank you for that as I needed a bucket load of it! Selling mother's house took me through many emotional turns and you rode them out with me until I was finally ready. Thank God for you. Best of Everything.
P. Salters
My home buying journey started out frustrating and confusing. I was everywhere, Then I contacted Arnee' and she helped me focus on what i wanted and narrow down the best options that was Best for me and my family. I was able to relax and enjoy the home buying process because i had Peace of mind knowing i was doing business with people who had my best interest at heart.
F. Forbes
TheOwnerSuite provided me with exceptional service! Every phase was handled professionally! From looking at the property, to locking down my unit, to negotiating closing incentives, to providing me with a superb gift for my new home, I can't express my gratitude enough! There were no typical realtor hassles! I felt in control and prepared at every step of the process! In 5 years, I will be using you again!!
K. Hector
The Owner Suite worked diligently to find my new home. Arnèe Harrison used her realtor instinct to find the home that was a good fit for me and featured all the elements that I was looking. Her complete from introduction to closing and beyond is uncanny.
Z. Lewis
The Owner Suite Experience was amazing. I had a house under contract within just one week of being on the market in a very hot and challenging seller's market. Arnee was patient and more than willing to do what was needed to quickly get me into an amazing home. I love my neighborhood. I was actually virtual the entire time and on closing day when I walked in, it felt like I had been present with Arnee every step of the way. Her team is top notch (both lender and closing attorney). The entire day was a celebration. The car service, beautiful refreshment spread in my home on entry after closing, and the professional filming of the entire event made this process truly feel like a one of a kind experience. Ever since I closed Arnee' has made sure I am settled in and answers any questions I have within the hour. I couldn't be more grateful for this home buying experience.
C. Poole
I flew into Atlanta from Boston on a Friday because I had an appointment with another realtor from a different realty company which I had found on yelp. I was ready to dive into the Atlanta housing market and find a home. However, this other realtor punted our meeting and told me that they would meet with me the following Tuesday. I was completely lost. What was I supposed to do between Friday and Tuesday? I talked to my sister, and she said, "If you don't like your realtor, call Arneé!" I did. I cold called Arneé and she got everything into motion immediately. Financing: check! She gave me two contacts to call right away. List of weekend open houses: check! She encouraged me to check out some open houses the next day because due to the cold call she would not be able to meet with me the next day. List of appointments for the coming days which included homes not yet on the market: check! Once we got through that first weekend, if Arneé couldn't personally take me to see a potential home, someone else on her team was there to take me (a very excellent, dedicated, and personable team!). Arneé listened. She did not judge. She kept an open mind and her eyes on the prize: finding me my new home. Even with all of her other clients, I felt like she kept me top of mind and never put me on the back burner. In the end I put offers in on 3 different places. I decided to walk away from the first one when I felt the negotiations were turning sour. Arneé understood immediately, and was ready to get back to looking at other potential homes with me. Someone outbid me for the second home. Arneé encouraged me to move on, not to let regret hold me back, and to find something even better. And I did. Third time was a charm. Although there were other offers, my offer was accepted. Arneé was aggressive without being pushy nor overbearing. She got the job done. Through Arneé's network, inspection was a breeze. Any issues that arose from the inspection were dealt with and addressed quickly. In exactly 30 days, I went from cold calling Arneé, to putting offers in on 3 different homes, to closing on my dream home. Thank you, Arneé. Arneé continues to check in with me, making sure that I am getting settled into my new home. So take my sister's advice: If you don't like your realtor, call Arneé!
K. Dalis
I can't say enough about The Owner Suite. My experience was top notch from beginning to end. It was a long 3 year journey to finding my 1st home. Arneé has a special way of guiding you to homes in areas that will bring you peace, joy and instant equity. I have truly enjoyed my experience and will continue to lean to Arneé for my Real Estate needs.
K. Johnson
I won the lottery with Arneé. I was lucky enough to be referred to her by a good friend. Working with her made all the difference in landing my first ever home purchase. The process of searching for a home and being fortunate enough (especially in this market) to find something that is a fit can be daunting and stressful. Every step of the way, Arneé had my back. She was calm and contagiously confident throughout the entire process and established a solid team and working order with a very reputable local lender so that we would be prepared in the event that we found the one. We found my home and within about 3 weeks, we closed; and actually, we were cleared for closing 1 week early since we were so organized. She made the closing process special and shared in my excitement over this incredible milestone that I have achieved, much to the surprise of my 25 year old self, all on my own. Arneé has longevity, lasting relationships, and respect in her community - put simply, she knows what she's doing. I would recommend her to anyone!
A. Klanac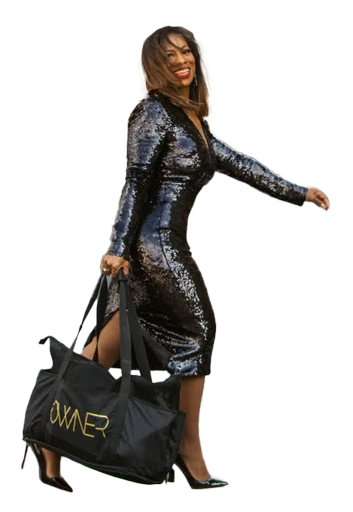 Arneé Harrison
ASSOCIATE BROKER

Let's talk about your next purchase.

The Owner Suite IS A TEAM OF REAL ESTATE LICENSEES AFFILIATED WITH COMPASS, A LICENSED REAL ESTATE BROKER AND ABIDES BY EQUAL HOUSING OPPORTUNITY LAWS. ALL MATERIAL PRESENTED HEREIN IS INTENDED FOR INFORMATIONAL PURPOSES ONLY. INFORMATION IS COMPILED FROM SOURCES DEEMED RELIABLE BUT IS SUBJECT TO ERRORS, OMISSIONS, CHANGES IN PRICE, CONDITION, SALE, OR WITHDRAWAL WITHOUT NOTICE. NO STATEMENT IS MADE AS TO ACCURACY OF ANY DESCRIPTION. ALL MEASUREMENTS AND SQUARE FOOTAGES ARE APPROXIMATE. THIS IS NOT INTENDED TO SOLICIT PROPERTY ALREADY LISTED. NOTHING HEREIN SHALL BE CONSTRUED AS LEGAL, ACCOUNTING OR OTHER PROFESSIONAL ADVICE OUTSIDE THE REALM OF REAL ESTATE BROKERAGE.
©2021-2022 The Owner Suite. All Rights Reserved.